BECAUSE SIMPLE IS SIMPLY
simple
Our mission is to provide our guests with the easiest check-in process. Next to our face-to-face check-in service at the reception you will have the option to check-in at our 24h terminal as well as via mobile. You can decide which of the three possibilities will fit your needs. Please note, you are asked to present your ID or passport during check-in process. As we want our guests to have a pleasant stay, we abolished unnecessary time at the checkout. Therefore we ask our guests for payment right at the check-in.
You want to safe money:
Whether its our homepage or booking hotline. You will always receive the best prices through our own channels
Reception
24 hours
check-In
Parking
Online
Check-In
Best Price
Guarantee
Convenient
payment
Online Check-In
Check in just like for an airline seat!
Personal Details
Confirm your travel details
Online Payment
Pay conveniently and securely with your mobile device
Done!
You will immediately receive your confirmation email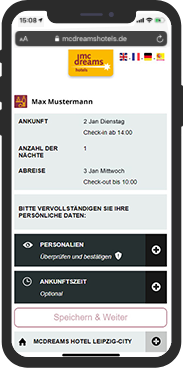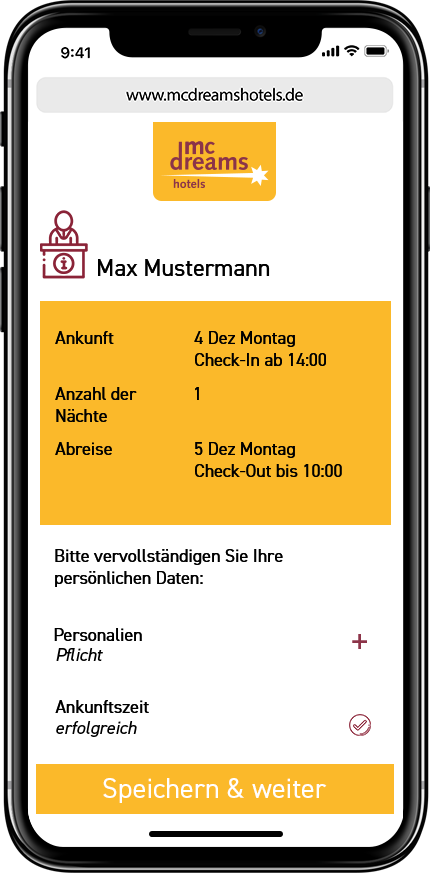 Personal Details
Confirm your travel details
Online Payment
Pay conveniently and securely with your mobile device
Done!
You will immediately receive your confirmation email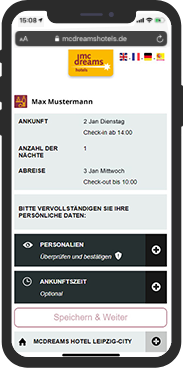 Further Check-In Options and FAQs
Check-In Options
Online Check-In
No matter where you are, with our flexible mobile check-in via mobile phone you will save a lot time.
Together with the security company BURG-WÄCHTER we developed an innovative PIN locking system for each bedroom. You will receive your 8 digit pin via email or sms from one of our receptionists at the different locations. This pin will be your hotel access code even after our reception hours. An additional card or key is not necessary anymore. If you select this kind of check in, please contact our reception.
24h Check-In
We offer our guests an additional 24h check-in via our terminal. No matter what time you arrive, you can check-in easy and quick with our provided terminals. You will only need your ID or passport, booking name or booking number (with reservation) and also a valid debit/credit card for paying. We do accept EC, Visa, Mastercard and Amex. Please note: a payment in cash is only possible at the reception. If you don't have a reservation you can also check in by the terminal, if we have rooms avaiable.
Reception
The Reception is currently closed.
Please use the online check-in or the terminal in the lobby.
FAQs
Breakfast
We also made a conscious decision not to offer breakfast. Why? Because you benefit from it! We partner with local bakeries at all our hotel locations (mostly located in the same building) to make sure you are provided with a delicious and affordable breakfast every day. Not only can you save on costs, but you will also have full flexibility in the morning. In addition, freshly brewed coffee is available at our hotel 24 hours a day (currently not in Ingolstadt, Leipzig and Düsseldorf).

You are welcome to book the breakfast offer through us.
Early arrival
Our rooms are at your disposal from 3 o'clock p.m. on the day of arrival. We will gladly try to make this possible for you, subject to availability, but we cannot guarantee it.

Please contact us on the day of your arrival, from 09:30 a.m. and ask us again for your desired arrival time.
Room categories
Please note that different room categrories are located on different positions of the building. The room category Double Room Basic, is located exclusively on the parking lot/street side.
If you wish a quiet room we would be happy to rebook your room into our Business and Comfort rooms which are located towards the inner courtyard/roof.
For more detailed information regarding our room categories you can also contact us by phone.
Other booking platforms
Since you made your booking through another booking portal and not directly through us, we ask you to make all adjustments, changes or cancellations directly with your agent.
Depending on the booking platform, you can make your changes yourself on the portal or contact your agent by phone.
Pets
You don't want to leave your best friend alone at home?
You don't have to, because your faithful companion is always welcome. For an overnight stay + cleaning flat rate of 10,00€ per pet, he may also stay with us as a guest.
Please let us know in advance how many pets (dogs) you will be accompanied by!
#McDreamsHotels
McDREAMS ON INSTAGRAM